These are a Few of my Favorite Things!
B. Anthony knows that his love affairs for some teams can periodically get him in trouble, however, there is a reason these teams are favorites. ............ They win and cover often!!!
Memphis -9 vs UConn- Oklahoma was a better, more disciplined team than Uconn. They lost by ten, and Memphis didn't shoot the ball at all. This will be a track meet at times, with at least 12 blocked shots, but one big spurt will make this a double digit game for a good portion of the 2nd half. 89-72 Memphis!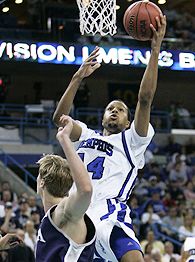 VCU +3 vs Miami Fla-
This game just means more to VCU and they know how to win. Miami is a very talented team, coming off a 20 loss season. There is a reason they lost 20 games, they don't know how to win close games! Take the Rams!
Appalachian State -7 vs San Jose St- This is a good athletic team that will just be too much for San Jose State. They cannot afford to lose to any team that is not from a Major conference. They will make a run at the tourney, but this time of year is very important to them. This line is off at least 5 points because SJSU won last night. Oh, by the way they shot over 62% to win by 1 point against Middle Tennessee. If they only shoot 50% tonight, they lose by double digits. Mountaineers will climb all over the Spartans!
B. Anthony needs to respect some of his Superman followers, so we will add one more game.
We call this the Blowout special. You should be familiar with this game, as Memphis has been and will be featured in this game in most of their league games!
Texas -25 vs UCDavis- Enough said! This Texas team could be better than last year according to some experts! Davis, not so much!
Year to date: 12-9