Return of the Powerhouse
B. Anthony is not going to run and hide. Some of you were able to find his plays from last night that were posted in the comments section, and the results were not pretty. So the season total that was looking good at 9-4 is now back to a treading water 9-8 including the TV game.
But, onward and upward. Two of my favorite teams are playing today. One has already started, and if anyone knows how this is possible, let me know?
VCU
is at halftime and it is only 7:30 am PST. Are they playing University of Houston in Europe! But Memphis is playing as well, and I imagine this could be a statement game. Joey Dorsey is back so I will ride the Tigers!
Memphis -8.5
vs Oklahoma. See Joey Dorsey Dominate the paint, while the gua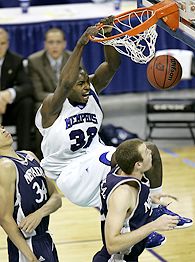 rds run wild! Derrick Rose will make his mark in a major television debut, and Douglas-Roberts just scores!
Gardner-Webb +13.5
vs
UConn
- I don't like
UConn
and they consistently play close games. Additionally they are playing a team with a lot of confidence. Not sure why this line is double digits, but I can't help but take the points.
Appalachian State -8 vs Lipscomb. This team competed well on opening night on the road. This is a home game where the better athletes will prevail early and often. I am not shying away from this team just yet!
Another game to watch that I will give a seal of approval!
Michigan +14.5
vs Georgetown. I don't think the
Hoyas
will live up to the hype of the last few years, as I have stated in the Preview. Also, Michigan does have a great new coach who has some experience with Roy
Hibbert
. I may be talking myself into this one as I write.
Enjoy the night, as MSG will have two good games and ESPN will cover them, and just to boot I have picked them both.
B. Anthony